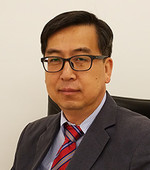 Moon J. Noh, Ph.D.
Chief Executive Officer
Dr. Moon J. Noh has been with Kolon TissueGene for over 16 years. Prior to his role here, Dr. Noh was the Director of the Biotechnology Lab at Kolon Central Research Park. Dr. Noh holds a Ph.D. and M.S. from the Korea Advanced Institute of Science and Technology in Molecular Biology.
Soon-Wook Kweon
Chief Financial Officer
Soon-Wook Kweon joined Kolon TissueGene, Inc. in May, 2017 as the Chief Financial Officer. Before he joined Kolon TissueGene, he served as the Vice President of the Management & Finance Division in Kolon Corporation. He received his Bachelor of Arts in Economics at Korea University in Korea.