Woosok Lee
President & Chief Executive Officer
Woosok Lee, the President and CEO of Kolon TissueGene, brings a broad and multidisciplinary international experience to the company. In addition to his role at Kolon TissueGene, Mr. Lee currently serves as the President and CEO of Kolon Pharmaceuticals, Inc., the President and CEO of Kolon ePlatform, Inc., and the President and CEO of Kolon Life Science, Inc. Mr. Lee received his MBA from the UCLA University in Los Angeles, California, and his Bachelor's degree in Economics from the Seoul National University in Korea.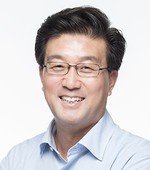 Bumsup Lee, Ph.D.
President & Chief Executive Officer
Bumsup Lee, D.V.M., Ph.D., President and CEO of Kolon TissueGene, joined Kolon TissueGene, Inc. as Chief Operating Officer. He was the Executive Vice President and CTO of Kolon Life Science, Inc (KLS), a position he held from May 2011 to May 2017, where he was responsible for a full range of R&D, clinical, business development, and manufacturing activities. Prior to joining KLS, he worked for biotechs and pharmaceutical companies such as Dong-A pharm, Mitokor, Syrrx, and Takeda San Diego. He has advanced multiple drug candidates through clinical development and won commercialization in the areas of diabetes, arthritis, and cancers. He obtained his D.V.M. and M.S. in pathology from Seoul National University and his Ph.D. from Iowa State University. He was a postdoctoral fellow at the State University of New York.
Soon-Wook Kweon
Chief Financial Officer
Soon-Wook Kweon joined Kolon TissueGene, Inc. in May, 2017 as the Chief Financial Officer. Before he joined Kolon TissueGene, he served as the Vice President of the Management & Finance Division in Kolon Corporation. He received his Bachelor of Arts in Economics at Korea University in Korea.
Moon J. Noh, Ph.D.
Chief Technology Officer
Dr. Moon J. Noh has been with Kolon TissueGene for over 16 years. Prior to his role here, Dr. Noh was the Director of the Biotechnology Lab at Kolon Central Research Park. Dr. Noh holds a Ph.D. and M.S. from the Korea Advanced Institute of Science and Technology in Molecular Biology.
Benjamin P. Lewis, Pharm.D., Ph.D.
Vice President, Regulatory Affairs
Dr. Lewis joined Kolon TissueGene (KTG) in July 2018. Prior to joining KTG he served as Head of regulatory affairs North America, Mitsubishi Tanabe Pharma America; Vice President, regulatory affairs, Prestwick Pharmaceuticals (provided the regulatory leadership for the development of the first drug for Huntington's disease); Head of regulatory affairs, Brand Institute (gained FDA approval for thirteen prominent brand names for major pharma firms); and FDA (director, regulatory operations, CBER; pharmacist director, office of center director, CBER; and scientific reviewer in CDER and Orphan Products).
His extensive FDA experience provides him with firsthand knowledge of FDA regulations, guidances, and procedures as well as management, clinical review, and regulatory submission experience in a broad range of therapeutic areas. Dr. Lewis received his pharmacy degree from Auburn University; he has a MS in pharmaceutical sciences, and PhD in health services administration. He did post-graduate studies at Johns Hopkins University. Dr. Lewis is regulatory affairs certified and is the author/editor of four books.