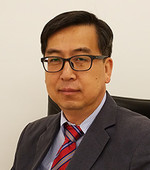 Moon J. Noh, Ph.D.
Chief Executive Officer
Dr. Moon J. Noh has been with Kolon TissueGene for over 16 years. Prior to his role here, Dr. Noh was the Director of the Biotechnology Lab at Kolon Central Research Park. Dr. Noh holds a Ph.D. and M.S. from the Korea Advanced Institute of Science and Technology in Molecular Biology.
Soon-Wook Kweon
Chief Financial Officer
Soon-Wook Kweon joined Kolon TissueGene, Inc. in May, 2017 as the Chief Financial Officer. Before he joined Kolon TissueGene, he served as the Vice President of the Management & Finance Division in Kolon Corporation. He received his Bachelor of Arts in Economics at Korea University in Korea.
Jangik I. Lee, Ph.D.
Outside Director
In addition to his role as the Outside Director at Kolon TissueGene, Jangik I. Lee also serves as the professor of Clinical Pharmacy and Regulatory Science in Seoul National University in Korea. He received his Ph.D. degree in the Clinical Pharmaceutical Scientist Program at the School of Pharmacy in University of Pittsburgh.
Young J. Kim, Ph.D.
Statutory Auditor
Young J. Kim's extensive experience in mission critical systems is well balanced with in-depth expertise in engineering & technology management and systems & software engineering. He founded and successfully led companies in the U.S. commercial and government service industries for many years. He received his Doctorate in Engineering Management at George Washington University.